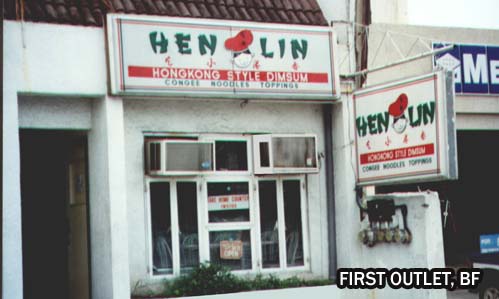 That stage between dreaming and realization must have caused a lot of anxieties and stressful days for aspiring entrepreneurs. Yet, if that phase eventually led to the blossoming of what was once a humble beginning, then all troubles must have paid off.
Thus, goes the story of Hen Lin --- the Chinese dimsum expert who always manages to send senses racing on the sheer aroma of its delicacies.
In an industry ruled by fast food, Hen Lin has succeeded in carving a name for itself simply by creating authentic and surprisingly affordable Chinese dimsum that cater to the ever fussy Filipino taste. Starting out with its first outlet in BF Homes, Paranaque, Hen Lin has more than a hundred branches, strategically located in malls and key cities. Today, across the metropolis, inevitably you will find a Hen Lin kiosk, or at the very least a dine-in outlet, even in small towns.
Determination Means Defying Failure
"Fondness for Chinese cuisine was instrumental in Hen Lin's birth," "Back in the 70s, when one can have a sumptuously filling meal of siopao and mami for only P1.00, the owners saw Chinese cuisine as a lucrative business. But it was only in 1983, when, as a means to augment their income, that the owners finally ventured into the business."
After a hard day's work as an executive in a Makati insurance firm, the owner would drive all the way to Escolta to fetch his wife, who was then working in a bank. Upon reaching their Alabang abode and long after attending to their children's dinner and schoolwork, the couple would toil in the kitchen, trying to perfect the recipe for siomai. "Making siomai or dumplings is really a team effort,". "The owners must have realized this at the onset. They made the process fun for their kids who joined the work, starting out as 'tasters' and eventually growing into the business."
But Hen Lin was not just an upstart cashing in on a fast food novelty. To succeed, the couple knew that they needed to have the impeccable Chinese taste down pat. Thus, the couple commissioned the help of a Hong Kong chef whose expertise was instrumental in giving Hen Lin's innumerable assortment of delicacies the authentic Chinese flavor. The couple further expanded their knowledge by learning the intricacies of dimsum making and experimenting with recipes, relentlessly pursuing that elusive Chinese taste that customers would eventually crave for.
Finally, in 1983, confident that they have perfected the blend and armed with P30,000 as capital, the couple opened their first store in Paranaque. "Like any other business, Hen Lin had its share of problems. For one, we had to make do with whatever resources we had on hand. At that time, we only have a few dimsum,". With the kids and several househelp providing the manpower, the couple did studies on expansion while supervising production.
Opportunities Thrive in the Unusual
During those days, dimsum was confined in Chinese restaurants, served ala carte to dine-in customers. Despite this stereotype, the couple defied conformity and instead saw the opportunity in take-outs. Landing a small space in SM Makati, Hen Lin enjoyed tremendous patronage from customers who raved about the authentic taste of their dimsum offerings, particularly the chili sauce which has now become a popular complement to Hen Lin's siomai.
As Hen Lin basked in the success of its initial endeavors, it also became more responsive to change. "Hen Lin as a company appreciates the importance of having a plan and working that plan. However, they also allow ourselves room to react and respond to opportunities that may suddenly reveal themselves,". The opportunity finally came in the form of SM malls. As SM expanded, so did Hen Lin. "They became a familiar fixture in SM malls, usually along the throngs of outlets just outside SM supermarkets. Thus, wherever you are in SM, you are sure to find a Hen Lin kiosk.
From then on, Hen Lin has been a familiar fixture in a most major malls in the metropolis. You can easily find a Hen Lin store in Robinson's Galleria, Ayala Center and The Landmark Center. Hen Lin, ubiquitous as it is, Hen Lin can be found in most other malls as well.
Moving Forward...
More than 35 years in the business, Hen Lin has already grown and matured into the trusted brand that we know today. However, Hen Lin has not stopped being innovative as it has been constantly improving by investing in new and better technologies to greatly improve it's quality and consistency. Hen Lin has taken upon the practices of HAACP (Hazard Analysis and Critical Control Point) and GMP (Good Manufacturing Practices) to ensure our customer the best standards and quality dimsum products that we can offer. This strict adherence to quality beyond what is needed has garnered Hen Lin with a Triple A ("AAA") certification from the National Meat Inspection Service (NMIS).